Do you ever feel like you're just waiting for your life to begin? Do you ever think you're waiting for God to call you according to His purpose, as it says in Romans 8:28? In the book of Ephesians, Paul chooses his words carefully, to show us that in Christ, our lives have begun. We have already been called according to His purpose, and that makes all the difference.
Many apologies to the non-grammar-nerds reading this, but sometimes it's important to consider the grammar of Paul's writings. Ephesians 1 can be very difficult to understand correctly, if you don't read carefully for the time-specific elements of the language. Consider this passage:
In him we were also chosen, having been predestined according to the plan of him who works out everything in conformity with the purpose of his will, in order that we, who were the first to put our hope in Christ, might be for the praise of his glory. And you also were included in Christ when you heard the message of truth, the gospel of your salvation. When you believed, you were marked in him with a seal, the promised Holy Spirit, who is a deposit guaranteeing our inheritance until the redemption of those who are God's possession—to the praise of his glory. (Eph 1:11-14, NIV)
Here, the translator worked hard to show us each block of time Paul is describing. We were chosen, we were the first (past tense), we might be for the praise of his glory (present tense), the Holy Spirit [is] a deposit guaranteeing (present) our inheritance until the redemption (future).
On Sunday, Jurie pointed out the "now-ness" of our calling, gifting, and living for Jesus. He summarized it neatly in this picture: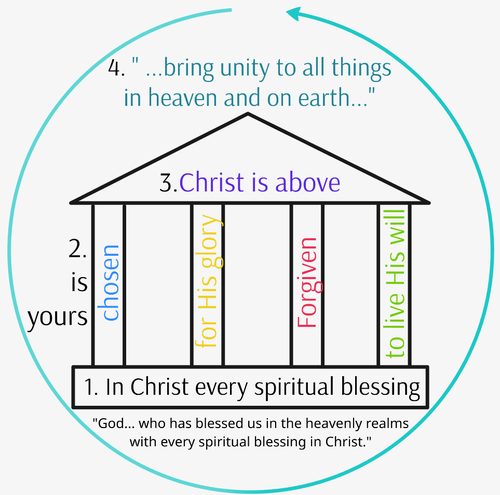 This image says it all. You were (and still are) chosen and forgiven so that you may live His will out for His glory - right now. God has [already] blessed us with these spiritual blessings, and Christ is above sustaining these blessings and bringing unity to all things.
Probably the most obvious stage of "waiting for life to begin" is teenager-hood. My daughter has been attending a youth group with some friends after school one day a week. Like most teenagers, she's a person who always seems to be waiting for what's next, hoping tomorrow will be good, looking forward to next year. Last week, I received a letter from the youth pastor at the church she's been going to for group. Here are some phrases:
She brings maturity both in her personality and her faith that has really transformed our group.... She draws our conversations into deeper waters but does it in a way that is inviting and engaging for our other youth. She speaks confidently about her convictions, but never in a judgmental way. The adult volunteers have commented to me what an asset she has been and I can see how much the other youth recognize her as a leader.
This child who is always looking to the future for life to begin and for the fullness of her gifts is experiencing much of the Holy Spirit working through her right now, without even realizing it. Open your eyes and look around. Sometimes God doesn't call you out of where you are and into a mission field. More often than not, you're already there. You don't have to wait to be chosen, you don't have to wait for spiritual blessings. Go, now, and live His will for His glory.
Want to here more about what Ephesians 1 says for our lives? Check out Sunday's sermon below.
Sarah Jo Smith; Austin TX; February 26, 2020