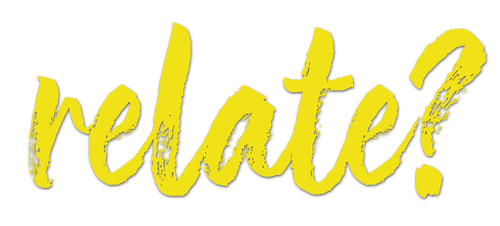 Before we get started, stop and think about the most difficult person in your life. Who do you struggle to relate to? With whom do you seem to always be in conflict? Now, think about the person who "gets you." Who can you always talk to and never feel judged, or irritated, or bored? Let's be honest – there are just some people we'd rather not be around, and others we can't wait to see. It's a fact of life that God created mankind with endless variety because we, collectively, are made in His endless image.

This "Can You Relate?" sermon series may be the most challenging we've had so far in our short lifespan as a church. Why? Because relationships are the most challenging thing in our lives. Sometimes, I hear myself say, "Ugh, if it weren't for all the PEOPLE, this would be so much easier." As an introvert, I get "over-peopled" very easily. People are messy individually, and when you put them together in relationship, you get an even messier mess.

What should we do? How do we move forward, knowing how difficult people are? Yesterday, Karin explained Jesus' take on how to deal with difficult people:
Then Peter came to Him and said, "Lord, how often shall my brother sin against me, and I forgive him? Up to seven times?"
Jesus said to him, "I do not say to you, up to seven times, but up to seventy times seven."
(Matt 18:21-22, NKJV)
We have the hardest time forgiving one another even the smallest slights against us or the slightest debts unpaid. There's a reason that Paul pointed out that love "keeps no record of wrongs" (1 Cor 13:5, NIV). Why are we so slow to forgive? I believe that it is our deeply engrained sense of justice. After all, our God is a just God. But although we are made in the image of a just God, we are also told that it's not our job to mete out His justice on our brothers:
If it is possible, as far as it depends on you, live at peace with everyone. Do not take revenge, my dear friends, but leave room for God's wrath, for it is written: "It is mine to avenge; I will repay," says the Lord.
(Romans 12:18-19, NIV)
Notice how Paul phrases that passage: "as far as it depends on you, live at peace.…" That bit tugs at me every time I read it. One of our biggest complaints about other people is that no matter how hard we try to forgive them, or keep conflict to a minimum, they so often keep being who they are and hurting us how they've hurt us before. But notice that Paul doesn't say, "live at peace with everyone who deserves it." Likewise, Jesus didn't say, "forgive your brother seventy times seven times, but only when he deserves it." After all, if we're "keeping no record of wrongs," each time is really the first time.

How do we do it? How can I forgive someone who's hurt me over and over? How can you resist bugging someone who bugs you? Hurting people hurt people, so how do we break the cycle? Paul gave us a simple (but far from easy) answer:
Make every effort to keep the unity of the Spirit through the bond of peace.
(Ephesians 4:3, NIV).
How do we do it? We make every effort. We make EVERY effort. That means that when I think a bitter thought, I make the effort to hand responsibility for justice back to God, and to say, "I forgive you" in my heart. Five minutes later, when I have a bitter thought, I make the effort again. After seventy times seven times, when I have yet another bitter thought, I make the effort again. Every time, I make the effort. And trust me, it is effort. Nobody ever said forgiveness came without a price. Jesus paid his very life for your forgiveness, and he considered you worth it. He just asks that you pay the price of heart-healing trust that the Lord will handle justice.

Karin's sermon yesterday dug deep into the concept of forgiveness and how choosing to forgive can change our relationships for good. Check it out below!

Have more questions? Drop us a comment; we'd love to hear from you!